Solutions
To benefit the customer
Demo
AI for Enterprise
Bigbrain-V
Vision inspection system
Vision AI is an AI-based image processing/analysis solution that
provides a function to automatically analyze an object after detecting
and recognizing a video image. It can be expanded to services in
various fields such as security, safety, and quality control to protect
industrial sites.
System diagram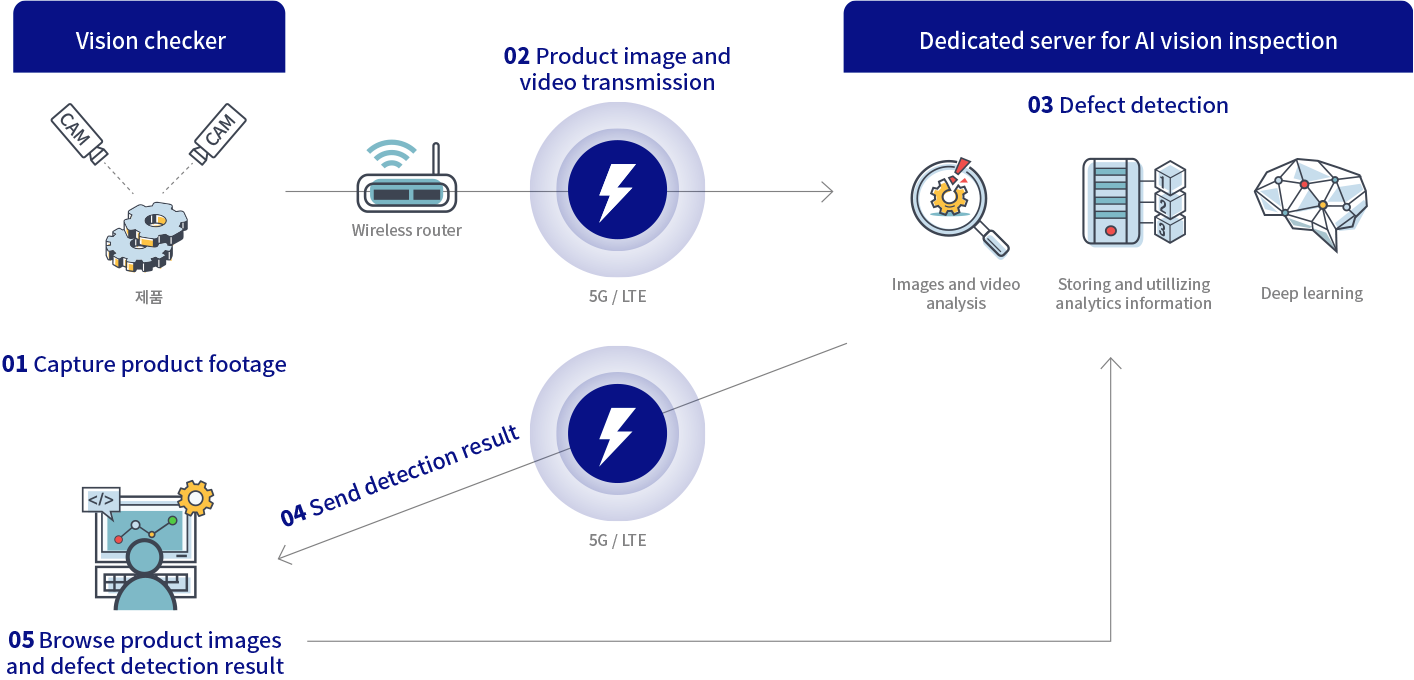 Main Features
AI machine vision quality inspection system technology

AI inspection provides an environment for a more detailed way to inspect and train
machine learning models than existing solutions inspectiong raw video images

Infrared monitoring technology

It provides high-quality data based deep learning using image and temperature
data from infrared (IR) and visible light (VIS) cameras.

01 The workspace usually has a poor environment to take good quality RGB images because of backlight, darkness and work clothes. (IR Camera used)

02 The workspace is usually a good to use temperature related data - High temperature work in the workspace, and fire risk (TIR temperature data used)

03 Improved object detection rate when using heterogeneous sensor images and temperature data together

04 Detecting objects which cannot be checked through video : Welding, sparks, fire etc

Deep-learning based monitoring technology

We provides an object detection architecture based on deep-learning technology
for optimized real-time monitoring with the know-how of ITNJ.

01 Create a masking and skeleton representing the detection object area

02 Various camera combinations are possible for each work scenario

Anonymity guaranteed monitoring

Detects objects in images using deep networks and transmits them as masked images.

Monitoring violations

Analyze employees' behavior patterns and whether they are wearing protective equipment to prevent an unexpected accident.

Hard hat detection

Collapsed worker and fast movement detection

Behavioral pattern analysis*

Fire detection monitoring

Analyze welding spark scattering pattern to prevent fire

Weld spark scattering detection

Fire flame detection

Welding spark detection

Moving object detection

Detect the movement of various objects
from image data

Cloud-based event monitoring system

A cloud-based web system enables real-time event confirmation and monitoring.
Benefits
01 Automatic object recognition

Recognize and classify multiple objects, including the location of each object within the image.

02 Evolving by Deep-learning

It utilizes deep learning technology to detect and to classify images. Through automatic analysis and distribution, it provides a technology that increases in accuracy as it is used.

03 Vision AI Camera

Vision AI Camera is the brain of the solution that recognizes and responds to situations. It detects unusual behavior or entrance in a dangerous area and facilities to create smart security management.

04 Check anytime, anywhere with a cloud-based web system

05 Reduced interference with the external environment
System features
01 Fast and accurate
quality inspection

Much faster and more accurate
than visual inspection

02 Provide quality
statistics

Statistics of defective products
and various defect types are
provided regulary

03 Explore data and
test results

Bigbrain cloud server stores
product images, videos, and
test results which can be
viewed anytime.

04 Easy and convenient

Provides an easy-to-use
interface friendly for non-
professionals